We received the following feedback from a kindergarten teacher. We were very touched to hear how naturally the kids already discuss unpleasant feelings and how they also do not shy away from the challenging topic of  empathising:
"The kids at our kindergarten always look forward to it when we bring in the Gefühlsmonster cards to talk about everyday situations. In this context, we sometimes also play a game called "How does your neighbour feel?" where we ask the kids to find a card that represents what they think the person next to them feels at that moment.
One day, there was some trouble between me and one of the boys in my group because he had ignored several of my requests to tidy up the things he had played with. I was angry with him and in my anger banned him for several days from our adventure room that he loves going to so much.
This then became one of the topics that we discussed during our lunchtime circle that day. The girl who sat next to the boy in question drew card number 16 for him "really angry and peeved".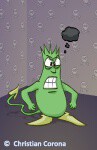 The boy himself then selected card number 21 for himself and said that he was very sad.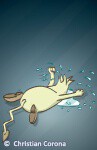 When I asked him about it he told me that he found it unfair to have been banned for several days in a row. I found this quite moving and we sat together to talk about the whole thing once again. When I then reduced the ban to one day the boy said to me that he thought that was totally OK!"
---
With thanks to Jana Stooff for her feedback.