Ms. Schroeter-Rupieper works in her grief support groups with the Gefühlsmonster cards and has provided us with this story of Sara:
"Sara's mum has been in a coma for the last six months after a heart attack. In grief counselling, she is asked if she can find a card which describes the current feelings for each member of her family.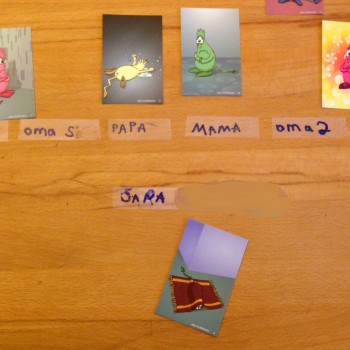 Sara chooses the cards. She takes them in her hand, weighs up, puts one back and takes another one.
'Mum sure feels very sick. And dad is sad that mum is suffering so much. Sometimes he also cries. One grandma and grandpa find it extremely overwhelming and sad. But the other grandma and grandpa, those on mom's side, always look happy. But I think they are also sad because my mom is her child and she is sick.
And I … I am also sad. Because now I know that mum can't go horse riding anymore.'
Sara's mum died 14 months after the heart attack.
Sara is now visiting a children's grief group and can also verbalize her feelings there because she was able to learn it in the time before her mother's death by means of different methods.