At the end of this year we would like to take this opportunity and say thank you. First of all to you, who used the Gefuehlsmonster cards in 2018 and thus carried them a little further into the world. To all those who with their enthusiasm have infected others and thus promoted our cards.
Thanks also to those of you who have provided us again this year with great testimonials and new application ideas. Through your creative engagement with the instrument of the Gefuehlsmonster cards, be it in your personal context or as part of one of our seminars, we at the headquarters again and again discover with great joy and curiosity new applications – always an enrichment. And last but not least a big thank you to all who kept our newsletters in spite of the trials and tribulations around the data policy stuff in May!
We are looking forward to an exciting new year.
On the one hand, we are diligently expanding our range of seminars. This means both new seminars tailored to specific fields of application as well as a wider range of seminar locations. In concrete terms, we will have our first parent seminar in Berlin in January, in September 2019 there will be the first seminar on autism. Munich and Lake Constance are being considered, there will also be seminars again in Switzerland, probably on the weekend of 25./26. May 2019 each a beginner and advanced training seminar in Zurich and on 23 May a seminar for occupational therapists in Suhr near Aarau. For more information, please visit our website or ask for our monster news.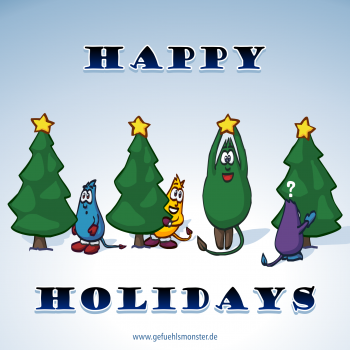 We wish you and your families happy and peaceful holidays. Have a good start to the new year!
With kind regards,
The Gefuehlsmonsters team