Look what happened when a processwork friend of ours went to eat in a Swiss restaurant and talked with a friend about the Gefühlsmonster® cards:
"Me and my friend went to have dinner at a Chinese restaurant in Zurich near the Volkshaus looking for some good food at a reasonable price.
After dinner I took out the Gefühlsmonster® cards and we started to talk about those cards and how to relate with them, how to use them.
The waiter came and asked us with curiosity "What are you doing?".
I told him: "Take a card". "Really?" he said. "Yes, try." I said. He took a card, it was the monster under the blanket.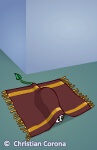 "What does that mean?" he asked. "You need to go to sleep." I told him smiling. "Yes" he replied with a smile and also with a sense of relief because he was a little afraid of what the meaning of the card could be.
He went back to work through the tables. It was almost midnight, almost closing time. There was us and two more tables. After 5 minutes he came back again, asking if he could take another card. "Oh yes!", I said, "close your eyes and take another one.". He did and the red devil (no.8) came out.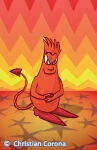 He got scared, we could see that from his face. "What does that mean?" he exclaimed. "Should I worry?" I didn't know what to answer so I said "Take another one.". He closed his eyes and took a third card: The tired monster (no. 9).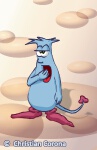 He looked at me waiting for clarification. I told him "You see, you are tired of your job and you need to bring out more the fire that is in you, what you are passionate about, your talents and you also have to say what you don't like to people. If you do that you will feel less tired and more alive." His face changed, he became radiant, he liked a lot what I told him. I asked "How does it feel for you? Does it make any sense?" "Oh yes!" he said. And he started to complain about the boss and the need to say things he does not agree with instead of allowing the boss to treat him in a bad way. And he was also excited about the idea of bringing out more of his own creativity. "Ohh I like that." he said with a big smile on his face.
"Take a last card." I suggested to him.
He took the last one. It was the monster on the clouds in the hammock (no. 5).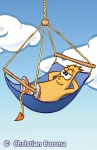 He looked at me. "What does that mean?" I said to him to take time thinking about it.
He said while laughing and a little shy "I don't know, maybe this way is how I can feel if I do that? Happy, relaxed, in heaven!" "How beautiful! Yes, exactly!" I replied. "Bravo!"
Me, my friend and the waiter were friends in that moment. Touched by the intimacy of an unexpected interaction. A feeling of lightness, happiness and love connected us.
We finished eating and went back home, after walking a long distance through the empty streets of Zurich."