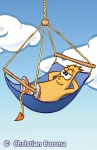 A school's social worker reported:
"Andrea was sent to me by a teacher because she had begun to cry after receiving a D in math class. She chose the card depicting a "relaxed" mood, showing a monster that lies in a hammock (number 5). After about 3 months, she explains that she has not received another D and that the monster image calms her down – she says that it is very cute!
Andrea asked me if she could take some cards home with her so that her mother knows right away how she feels.
Andrea loves the Gefühlsmonster cards. On the day that new first-graders arrived in school, she asked if she could draw a monster on the blackboard and write "welcome" under it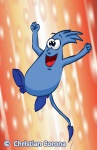 (she copied the monster that jumps into the air)."
Author: a school's social worker