Dr. Giovanna Eilers from Berlin sent us the following feedback:
"Consultation in a family practice – sometimes all hell breaks loose: the door is opened and patients flock to the practice. It can happen that 15 patients are on my waiting list at the same time. So sometimes it isn't easy to stay calm and composed. – In a situation like that, I have my little hammock monster to help me, which is clipped on a small stand right in front of my screen. When I look at the monster, I am reminded that I can 'refuel' on calmness, so that I can then adapt again to each patient.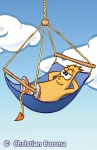 Sometimes, when the nurses already know in advance that we have a difficult day at the practice in front of us, they take out this monster from the drawer and place it on my desk!
If one of my colleagues is on holiday and I have to manage the work alone, then I need even stronger support. Then, it isn't just calmness that I need, but I also sometimes get the feeling: I can't cope with it, it is so much! Those are the days when I get my monster with the medal and the sunglasses.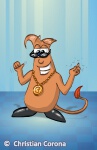 He holds up his thumb and says to me: You've got it – you've got what it takes, you'll make it!! Together with him I can then rock the day!"